Wolfgang Puck said "Cooking is like painting or writing a song. Just as there are only so many notes or colors, there are only so many flavors - it's how you combine them that sets you apart." Let our Damascus chef knife help you compose culinary masterpieces.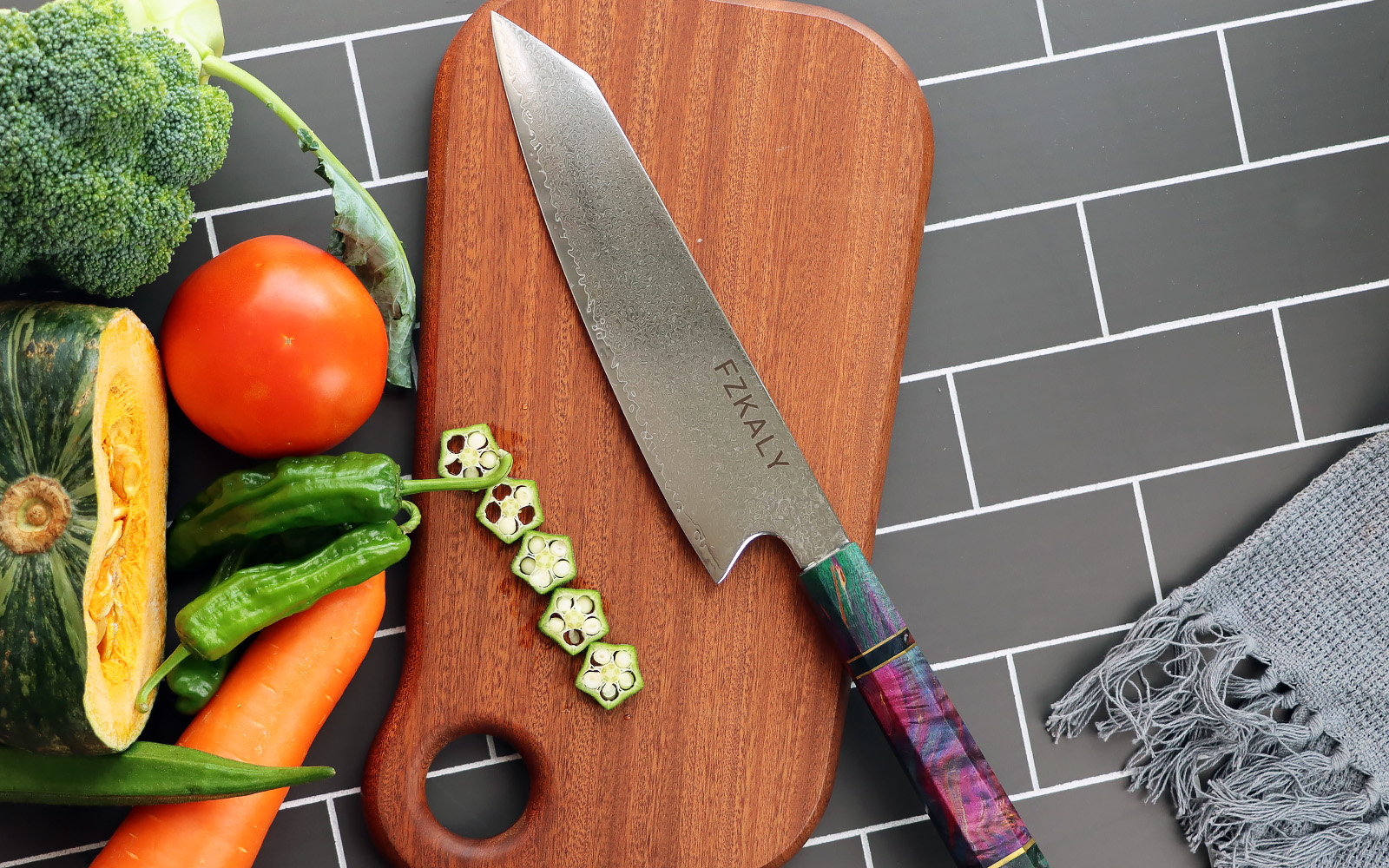 Feature
Premium Damascus vg10 steel core cladding with 67 layers of soft high-carbon stainless steel
Hand sharpened to 8-12° per side creates paper-thin slices
60+ Rockwell Hardness for excellent edge retention and sharpness
Ergonomic, full tang, unique wood handle
Humanized finger protection design protects your hands
Mainly used for thinly slicing fish, meat, vegetables, and fruit, using push/pull cutting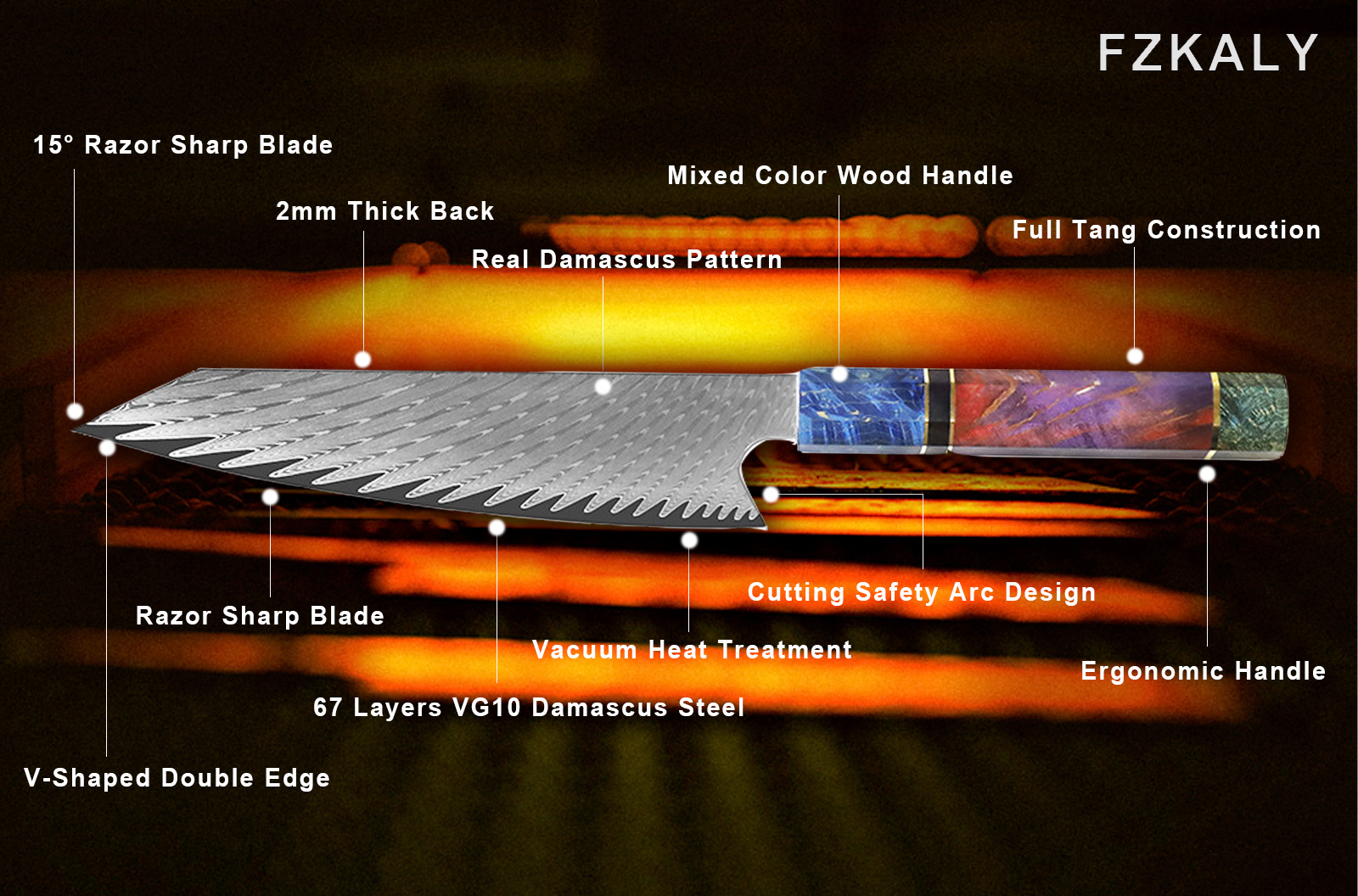 Materials
Blade: vg10 core
Cladding: premium high-carbon stainless steel
Blade Finish: 67 layers of Damascus steel
Bolster: Damascus steel
Handle: hardwood handle in mixed color
Blade Hardness: 60±2 HRC
Thickness: 2mm
Blade Length: 8 in
Weight: 0.7lbs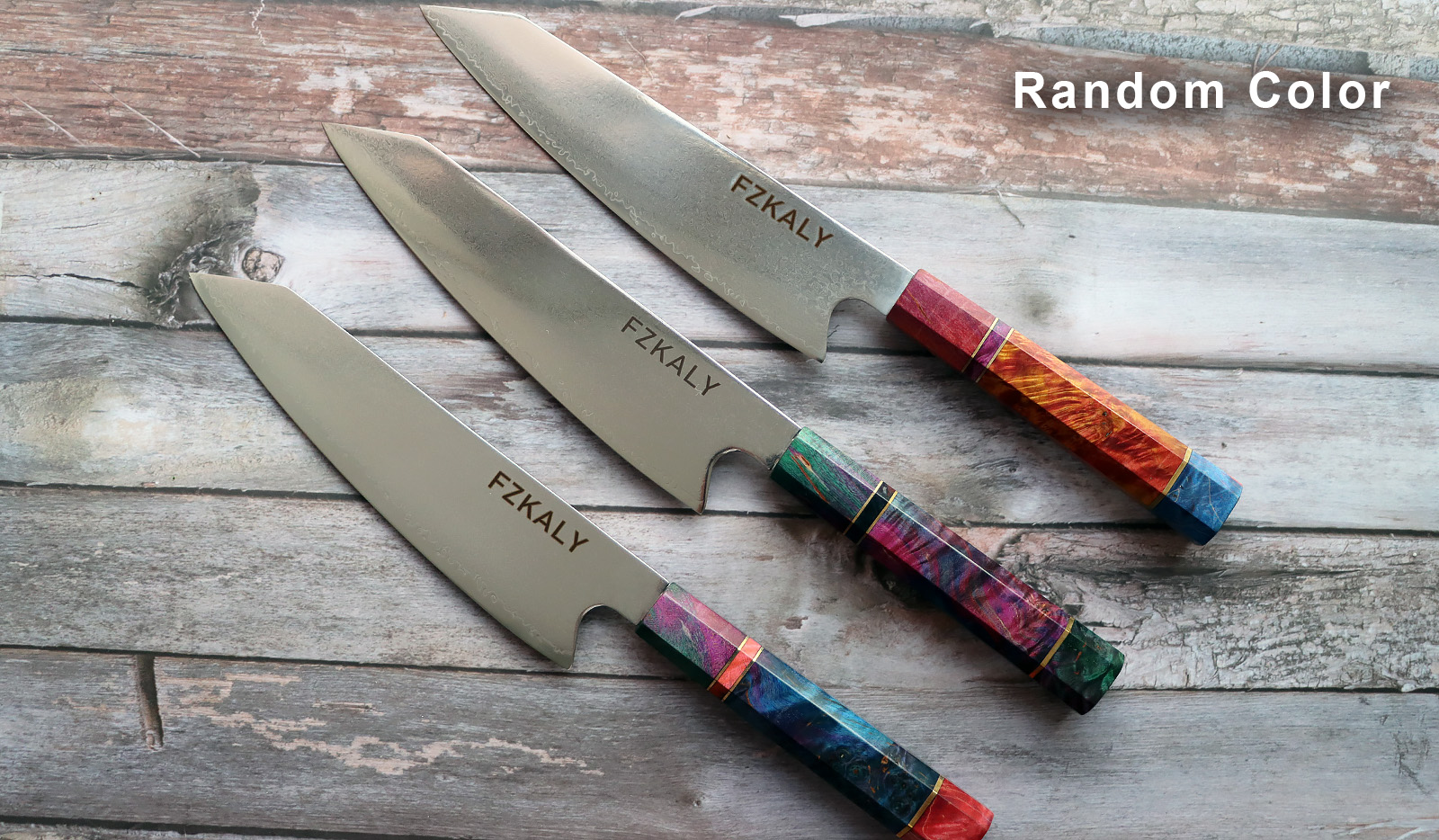 Fzkaly Couture Series: Features an 8" long blade with a full bolster for balance and finger guard. Full tang Integrated molding wood handles are break-proof, beautiful, non-slip, and hygienic. The best-selling series of Japanese chef knives can satisfy every cook nerd or amateur chef.
Multipurpose Cutting Knife: The Fzkaly durable 8" chef's knife is essential for preparing any meal. This all-arounder cooking knife can be used for chopping, mincing, slicing, and dicing. It is also portable for outdoor trips and campers due to it is sharp right out of the box.
Precision Forged: The 8" chef's knife is forged from VG10 Damascus steel and heat treatment to 60+ HRC. The VG10 steel contains 1% carbon making it hold a sharp edge well, surrounded by layers of softer, more flexible steel, preventing the blade from becoming brittle and prone to chipping, and offering better strength and edge retention.
Aesthetics Design: The folding produced the characteristic Damascus Water Pattern and the hardwood handle comes in a blend of beautiful colors, giving the knife a unique look that's both elegant and captivating. It is a work of art that adds a touch of beauty to your kitchen.
The sharp cooking knives are cut with minimum pressure and feel perfectly balanced in the hand. also, it would be a perfect gift for the chef and your family or for someone who just likes to prep their food weekly.
Don't miss this unique high-quality Damascus chef knife.